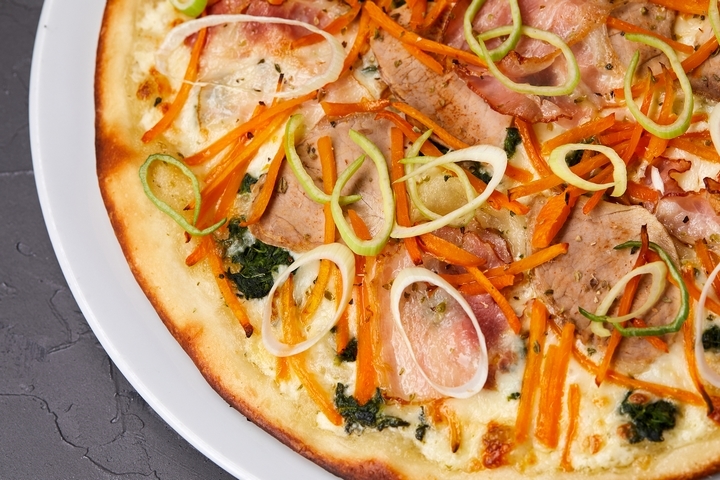 If you love pizza, you aren't alone. Pizza is probably one of the tastiest foods that millions of people routinely enjoy. One of the best things about pizza is you can cook the food and cater it to suit your tastes. Do you like a thin or thick crust on your pizza? What about the toppings you put on your pizza? Fortunately, there are many pizza topping combos that will have you loving this meal any time of the day.
We've compiled the eight best pizza topping combos of all time:
1. Ham and pineapple
Ham and pineapple are both classic pizza toppings, and they also make one of the best pizza topping combos of all time. Having the right amount of meat on your pizza may be essential for getting the most taste out of it. Ham is a great option that allows you to enjoy the flavour of your pizza.
However, when you add pineapple to this mix, you're likely to have taste buds that are soaring with joy. Pineapple has just the right amount of tang and sweetness for any person to enjoy on this tasty dish.
2. Pepperoni and cheese
If you want to rely on a traditional choice to put on your pizza, it's likely that pepperoni and cheese will make the cut. This is a tried and true combination that is certain to enhance the flavour of any pizza you choose. It's one of the best pizza topping combos for those who don't want to experiment with their pizza choices.
Pepperoni has long time been a favourite for pizza lovers all over the world. Adding that extra serving of cheese is sure to please your appetite and prevent you from being hungry for hours.
3. Garlic and ranch
The key to enjoying pizza the most may rest in the spices or flavouring you choose to add to it. Garlic and ranch are some of the best pizza topping combos for many people.
Garlic certainly ups the value of any meal by adding just the right touch. Additionally, ranch dressing is loaded with what your taste buds may love and is easy to add to the side or on top of your pizza.
4. Barbecue sauce and chicken
Getting in the right amount of protein daily is entirely possible when you add chicken to your pizza. This may not be the first topping that comes to mind, but it's a good one.
Why not put some barbecue sauce with your chicken on your pizza? This is a winning combo that will allow you to get many flavours from only one meal. How fantastic is that and what a thrill for your taste buds it will be.
5. Bacon and shrimp
Do you love bacon and want another way to eat it besides for breakfast? If so, you may want to add some shrimp to the mix and have these two unusual foods on your pizza. This is one of the best pizza topping combos for those who like to be more experimental with their food.
This is one of the most popular and tasty pizza combos you may find. Don't put off eating tomorrow what you can enjoy today, right? This combo may have your mouth watering and is sure to delight your appetite.
6. Sausage and meatballs
Who said you couldn't have sausage any time of the day? While it may be most familiar to have sausage for breakfast, you can find a wide variety of folks that love sausage on pizza.
Add a healthy serving of meatballs, and you got a flavour that merely ready on the go. Your pizza will taste like no other, and it's like you' won't be without taste buds that are dancing.
7. Hamburger and peppers
There are not many people that don't eat a hamburger on a routine basis. This is likely to be one of the most served foods every week for many families.
You can enjoy hamburger with either red or green peppers on your pizza. This is sure to make any ordinary day a much better one because this can be a very filling meal.
8. Bacon and cheese
Adding a large portion of bacon to your pizza may be something different to give a try. You don't have to add too much but just enough to flavour your pizza the right amount. Bacon and cheese seem to go together like white and rice. Cooking your pizza with these toppings will give it the right amount of flavour. Best of all, these toppings come at a price that doesn't break the bank.
Did you ever think there were so many surprising ways to eat a pizza? Well, the options are surely endless, and you can find a combo that makes you proud and excited to be a pizza lover. Don't wait to enjoy this tasty food and make the most of any day. You can get the nutrients your body needs from selecting the right combo toppings for this food. Put some spring into your step by delighting your taste buds with a diet that aims to please!